I was at Heathrow – having not even embarked yet on my six-day riding holiday in Transylvania – when my husband rang. Did I know it was the 100th anniversary of the death of Bram Stoker (creator of Dracula)? I said I wondered whether Dracula might be responsible for the six-day weather forecast: thunder and lightning, rain, snow, rain, thunder and lightning, and – only on the last day – sun.
It was supposed to be a spring trip. At least I had packed my waterproof trousers. I was also carrying a small library of Romanian literature – weighing on my heart as well as in my case: memoirs by exiles Dan Antal and Norman Manea; travel books by Patrick Leigh Fermor and William Blacker; and Georgina Harding's novel The Painter of Silence. Each testifies to a country of exceptional beauty but with such a burden of history that it could not be expected to travel lightly into its future – whatever its tourists might do.
We, a group of four riders, were to be the guests of Count Tibor Kalnoky and his wife Anna in Miklósvár, and were met at Bucharest airport by Josef, an old retainer from the household. On the four-hour drive to Miklósvár, Josef kept up a commentary, in patchy English, on snow-capped mountains, roadside cemeteries, deserted 14th-century Saxon churches, a gaggle of Gypsies and bankrupt businesses.
He kept repeating: "After the revelation…" It was an appropriate slip, for his message was that the 1989 revolution that saw off Nicolae Ceausescu had not been revelatory enough. He was pessimistic about the EU and today's politicians: "No one liked the communists but at least people had jobs."
He had the merriest smile, especially when delivering grim prophecies about his country, and he had brought cakes and an emergency flask of black coffee to keep spirits high.
Miklósvár is in Szekler country, which was once part of the Austro-Hungarian empire and became Romanian during the first world war. Hungarian is still the region's language of choice. Our first overnight stop was to be at the Kalnokys' sensitively restored guesthouse – a place of such charm that, as soon as I stepped inside, I felt as though a fairy tale had overtaken the harsher, earlier narrative. It was exactly how a gingerbread house should look from within. Every detail was eager to please: white cotton cushion covers, along whose edges scarlet pimpernels had been hand stitched, lamps with dainty skirts, an ancient cuckoo clock.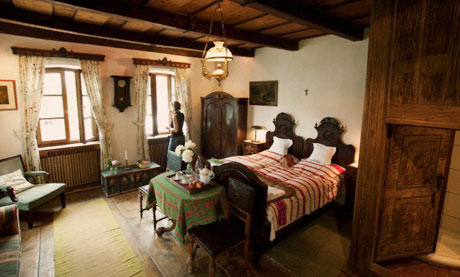 Count Kalnokys's guesthouse. Photograph: Catherine Karnow/CorbisAnd I was entranced by the sight, only a few strides outside the guesthouse, of storks in slapdash nests at the top of telegraph poles. Josef had passed on another of his revelations about the storks: every year, he insisted, they leave Romania on the same date, 20 August.
We had our own itinerary – starting with a rendezvous with the Kalnokys. In the guesthouse parlour, they welcomed us – in a Romanian ritual – with a crystal decanter of brandy and a reception committee of tiny glasses. The count introduced himself, with a touch of irony, as an "international man of culture" and made congenial small talk.
But it was Anna – tiny, delightful, reserved, and with a scholarly approach to her horses – who was mistress of ceremonies. We riders sat, as if at a seminar, as she cross-questioned us about our riding and, with a distant look in her eye, made her matches. Getting the pairing right, she told me later, is the most important thing in any riding business, and she has learned the hard way.
The following day, we were driven to Valea Crisului, the Kalnokys' once-glorious now-crumbling stables, where I was presented with Rua, whose name, translated, means dew and who had visibly been feeding off something more substantial. She is a Huzul (a historic local breed from the Carpathian mountains) crossed with a Lipizzaner, and at the end of every day's riding (between three and five hours) I would be grateful for her comfortable contours. The countess has more challenging mounts for those wanting a challenge – notably Chaos, one of her Arabs, who has to be ridden with verve to make sure he does not live up to his name.
This was a trail ride – but "trail" does not describe its exhilarating pace (although speed is always dictated by the weakest rider in the group). The riding in Romania is sensational, with uninterrupted miles of pasture and woodland. No gates, no fences.
On the first day, we headed north up to a ridge with views across the high Carpathian range. The countryside has a landscaped look, as if a Romanian Capability Brown had been at work: meadows with free-standing oaks, beeches and hornbeams and, occasionally, a tree clotted with mistletoe. Spring had not yet arrived – the beech woods were bare. But even this weirdly indeterminate season was beautiful, with its silver birches and golden leaves. And when we dismounted for the simple daily picnic, we would come across wild flowers – wood anemones, hellebores, dog's-tooth violets – making themselves visible with shy persistence.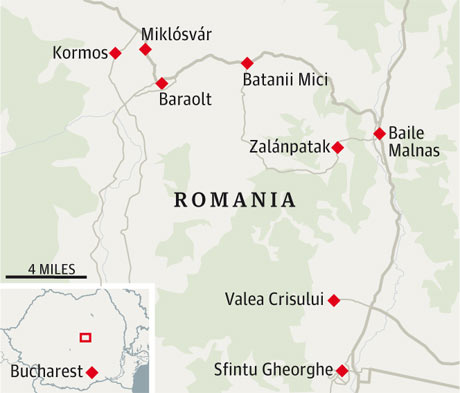 Map showing places on Kate's tripThe weather was poor but better than advertised. If I were to return, I would go for September or October (summer can be roastingly hot). Yet it is a measure of how stunning Transylvania is that even under grey skies it captivates. The sense of being in a fairytale persists beyond the guesthouse door and into the landscape itself.
There are bears in the woods. We saw their paw prints in the mud (impossible not to think of Michael Rosen's children's book We're Going on a Bear Hunt). Our guide, Boti, fetchingly dressed in Hungarian woollen knickerbockers and fur-trimmed hat, was ready with bear necessities and updates: "Hunters shot at three bears yesterday and missed – the bears will be asleep in the forest."
We did better with our sleeping quarters. The accommodation has been chosen by the countess for variety, ranging from comfortable B&Bs to grander accommodation. Baile Malnas ("raspberry baths") was the first village we visited. I've mentioned Romania's penchant for brandy but Transylvania is known for its mineral water, and Baile Malnas was a thriving spa at the end of the 19th century.
I was struck by the irony that this village, dedicated to health, is now conspicuously ailing. Its elegant wooden buildings are rickety and many are occupied by travellers. Its waters taste mighty strange. "This one is like blood," Boti warned enthusiastically (the Dracula effect?). Another seemed sulphurous. But a third was marketably delicious. Boti reminisced about water he and his friends were urged to drink as boys to boost virility (a sort of Viagra Falls?). I preferred to stick to the local lemon balm tea.
Our host in Baile Malnas was a hunter and our dinner was boar stew (the Romanian diet is consistently hearty). He was also a beekeeper, craftily stowing his bees in a caravan so he could transport them whenever acacias came into bloom.
On the morning of the second day, rain was falling steadily on the row of cabbages outside my bedroom window, and a local volcano had gathered so much black cloud it looked as though it was smoking by other means. But the downpour had eased by mid-morning as we climbed in a north-westerly direction towards the deep forests of the Hatod region, where six villages share the same woods. These villages have delectable names. Who could resist Batanii Mici, translated as Little Bacon, as an address?
"How do you like my village?" asked Boti (a local pastor's son). We liked Little Bacon very much indeed. Many of its houses are blue – the shade depending upon social status: dark blue for peasants, sky-blue for aristocrats. The roofs have decorative diamond-shaped tiles. The 1798 church has sky-blue pews and the stream outside runs so fast it looks like speeded-up film.
In the centre of the village, a bronze man sits on a bench, commemorating its most famous resident, the Hungarian children's storyteller Benedek Elek (1859-1929), Transylvania's answer to Hans Christian Andersen. We visited Elek's beautiful house – a melancholy fairytale in itself, dedicated to his wife and the love of his life, Maria. Her name is still above the door. Elek was a romantic and a wit. Boti translated a teasing hand-written sign (one of several) explaining that he had buried all the books ever panned by critics in his garden. A joke that gives one pause for thought. And we inspected the letter he wrote just before he died. His last words were: "Work is what matters."
Working as a farmer in Transylvania is especially hard – the place seems still to exist in another century, with horse-drawn vehicles everywhere. In Little Bacon we visited a remarkable watermill patronised by Prince Charles, who, moved by the plight of Transylvanian villages, has been doing what he can to help. There is a historical royal connection too: Queen Victoria was a grandmother of Queen Marie of Romania (1914–1927).
We inspected the mill and watched the 80-year-old mother of the millers at her loom. She proudly showed us a framed snap of herself with Prince Charles and offered round homemade biscuits mysteriously known as friend's ears. She told us she liked the fact that riders had "energy for life" – something she had too.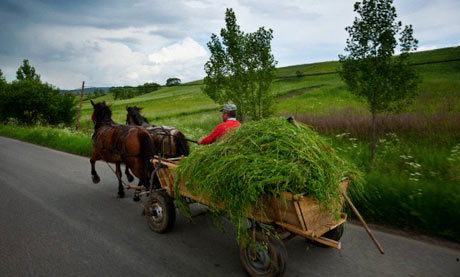 Traditional farming in Miklósvár. Photograph: Catherine Karnow/CorbisThe warmth of all the Romanians we met was disarming, and our hosts in Little Bacon were especially attentive, putting aside time to entertain us. Mr Antal kissed our hands and played us old Caruso recordings on an antique gramophone. Mrs Antal shared her hopes that Romania was about to turn a corner politically.
Our next stop was Kormos (or "sooty") valley, where Ceausescu once had a hunting lodge. I had been nervous about spending a night chez Ceausescu, but it was to be a fascinating interlude. The place was deserted apart from us. It was as if we – a group of rain-drenched riders and a cook – were haunting it. Outside, the building looks starkly Soviet; inside, it was toastily warm (Romania does a fantastic line in ceramic stoves of great height – Ceausescu's was decorated with naked women). The place was moss green with varnished pine and dried bulrushes everywhere.
This, I thought, is where the bear hunt ends. On the floor were bear skins with stuffed heads, bared teeth and detachable plastic tongues. The sense was that time itself had been taxidermied. The place is spookily well preserved – as if in expectation of Ceausescu's return. On the mantelpieces are photos of the dictator with dead bears.
Boti joked: "Should we throw them on the fire?" It wasn't much of a joke – he went on to explain his grandfather had been tortured during Ceausescu's regime. Hard to explain why it was such a weirdly upbeat visit. Perhaps the tasteless objects contributed – especially the chair constructed out of antlers, a preposterous masterpiece. And the elation of registering that Ceausescu is gone for good.
Next day we rode to the Kalnokys' decorous, dusky pink, neo-classical hunting lodge. And on the last day … the sun came out. Over breakfast, I told Boti that his country had got under my skin and I was not ready to leave.
"It is like life," he replied, with comic gravity. "You like it, you get used to it and then it is over."
I felt it was slightly too early in the morning to digest this, so I settled for a fried egg instead. And then began a day of extraordinary speed and beauty, in blazing sunshine – with a wonderful lunch in Prince Charles's attractive farmhouse in Zalánpatak (he was not at home). It was an emerald rush of a ride, with no roads or villages, in which galloping seemed the natural pace: whenever the country opened up, the horses let themselves go.
And moments like these – are you listening Boti? – exist so absolutely in the present that you like them, you get used to them and, in your memory, they will never be over.