Interview with Mihai Ivascu The CEO of Moneymailme The Social Money Transferring Payments App
Intelligenthq interview Mihai Ivascu a serial-entrepreneur, thought leader CEO and Founder of Moneymailme – A Social Money Transferring Payments App. Mihai is based between London where the company is based and Monaco where he finished his MBA and runs various ventures. With 10 years experience in the crossover between corporations and start-ups, FinTech, innovation, and marketing consulting although still very young is a serious experienced professional with a multidisciplinary capacity as few.
Interview with Mihai Ivascu CEO of Moneymailme The Social Money Transferring Payments App from IntelligentHQ on Vimeo.
EnvoyEnvoy CEO Larry Gadea
Not a lot of people get to work at Google, much less before entering college.
But for Larry Gadea, founder of visitor-registration software Envoy, a job at Google just kind of came naturally right after high school, at the age of 18.
Gadea started programming when he was 8 years old. He loved computers and was already writing games by high school.
But it was a plug-in he developed for Google Desktop Search that put him on Google's radar. It would allow the users to find and index files in their computers that Google Desktop Search couldn't. It made the search feature a lot more useful, and immediately became super popular.
More detail in business insider 
Romanian tennis player Simona Halep, WTA's No. 2, is the most popular tennis player in 2015, according to the WTA website.
Halep was the most "clicked on" player on wtatennis.com, for the second year in a row. In 2015 the Romanian had her best ever season, finishing at No.2 on the year-end WTA Rankings, despite winning only three titles, in Shenzhen, Dubai and Indian Wells.
The top 50 most popular players of 2015 on the WTA website includes three other Romanian players, Irina Begu — ranked 39th, Andreea Mitu — ranked 47th, and Monica Niculescu — ranked 50th.
The top 10 most popular players are:
1. Simona Halep (Romania)
2. Serena Williams (US)
3. Maria Sharapova (Russia)
4. Agnieszka Radwanska (Poland)
5. Eugenie Bouchard (Canada)
6. Ana Ivanovic (Serbia)
7. Caroline Wozniacki (Denmark)
8. Garbine Muguruza (Spain)
9. Petra Kvitova (Czech Republic)
10. Venus Williams (US)
AGERPRES
Romania's national junior informatics team won three gold medals and one bronze medal at the 9th edition of the Junior Balkan Olympiad in Informatics that was held September 16-19 in Ohrid, Macedonia, with Romania once again finishing first in the competition's country ranking.
"The gold medals went to Ovidiu Razvan Harsan and Alexandru Petrescu, both 8th graders of the Tudor Vianu National Informatics College of Bucharest as well as to Andrei Ioan Nicolae (8th grader of the Bucharest International Informatics High School). Rounding up the tally was Maria Alexandra Udristoiu (7th grader of the Fratii Buzesti National College of Craiova), who captured the bronze medal," the Education Ministry reports in a press statement sent to AGERPRES.
Accompanying and coordinating the team in the competition were teachers Eugen Nodea of the Tudor Vladimirescu National College of Targu-Jiu and Ionel-Vasile Pit-Rada of the Traian National College of Drobeta Turnu-Severin.
There were 38 contesters from 9 countries competing in the Olympiad. AGERPRES
Romania won the gold medals in men's double sculls and women's coxless pairs on Sunday at the World Rowing Under 23 Championships in Plovdiv, Bulgaria.
Vlad Dragos Aicoboae and Toader Andrei Gontaru stopped the chronometer of the men's double sculls at 6 min 25 sec 55/100, ahead of Australia (6:26.79) and Serbia (6:28.39).
Viviana Iuliana Bejinariu and Ioana Vrinceanu won the women's coxless pairs event in 6 min 57 sec 57/100, followed by New Zealand (6:58.77) and Netherlands (7:00.17).
Also on Sunday, Romania's men's eight scull ended fourth and women's lightweight pair fifth in the respective finals.
Romania had already won one gold medal on Saturday, in the men's coxless four event. AGERPRES
Romania has won two silver medals at the International Linguistics Olympiad in Bulgaria, Romania's Ministry of Education and Scientific Research reports.
A gold medallist at the previous edition and also at the recently ended International Biology Olympiads, 12th grader Dan Mircea Mirea of the Fratii Buzesti National College of Craiova won the silver medal and the prize for the best solution to a problem. Another silver medal went to Teodora-Elena Solovan, a student of the Petru Rares National College of Suceava, according to the Education Ministry.
Also included in the Romanian team were 2014 silver medallist Vlad Neacsu of the Bucharest International Informatics High School and Denisa Apetroaiei of the Mihail Kogalniceanu High School of Vaslui. Coaching and accompanying the students were Roxana Dinca and Adina Dragomirescu of the Faculty of Letters of the Bucharest University.
The International Linguistics Olympiad, one of 12 science Olympiads in the world, has individual and team contests. The test items requires analogies using notions of grammar logics and mathematical logics to understand unknown languages starting from the premise that linguistics puts order in thinking and regulates explicit linguistic communication by building structures that favour easy learning of any language.
Competing in the 13th edition of the International Linguistics Olympiad, July 20-24 in Blagoevgrad, Bulgaria, were students from 29 countries: Australia, Bangladesh, Bulgaria, Canada, China, the Czech Republic, Estonia, France, Hungary, India, Ireland, Iceland, Japan, Kazakhstan, Lithuania, the Netherlands, Poland, Romania, Russia, Singapore, Slovenia, South Korea, Spain, Sweden, Taiwan, Turkey, Ukraine, the UK and the US. AGERPRES
Judoka Andreea Chitu brought Romania the second gold medal at the 2015 European Games in Baku (Azerbaijan). Chitu defeated on Thursday France's Annabelle Euranie in the final of the 52kg weight division.
Chitu entered directly the round of 16, where she beat Israeli Roni Schwartz; then she left behind Italian Odette Giuffrida in the quarterfinal and German Mareen Kraeh in the semifinal.
The judo competition in Baku also stands as European Championships this year, after the spring competition scheduled in Glasgow has been cancelled.
For Andreea Chitu, it was the second European gold, after the medal in Chelyabinsk (Russia) in 2012. She also won silver in the 2013 European Championships in Budapest and bronze last year in Montpellier (France). Her World Championships record also includes one silver medal in Chelyabinsk in 2014 and one bronze in Paris, in 2011.
Romania's record in the Baku games now stands at ten medals — two gold, four silver and four bronze. AGERPRES
The Romanian women's epee team has taken home the gold medal in the fencing event European Games in Baku (Azerbaijan), on Friday, after defeating Estonia in the epee finals, by 31-25.
Romanian fencers celebrate after winning the women's epee final
The Romanian women's epee team (Ana-Maria Branza, Simona Gherman, Simona Pop) has brought home the third gold medal of the Romanian delegation in Baku and the fourth of the fencers in the competition.
The final started out badly for the tricolours, Simona Pop losing the first duel, with Irina Embrich (3-5). Simona Gherman reset the balance (6-6) after facing off with Katrina Lehis. Two assaults followed in which Branza, Pop and, respectively, Kirpu and Lehis risked nothing and no points were scored. Ana-Maria Branza took Romania to the advantage after squaring off with Embrich (10-8), Gherman pushed the lead further against Kirpu, who is ranked 3rd in the world, (10-5), Julia Beljajeva reduced the difference against Branza (10-6). Simona Pop managed an excellent duel with Kirpu, gaining a further 5-point advantage for Romania (21-12), while Gherman managed to fend off Embrich's attacks, managing a definitive win for Romania at 31-25.
The match against Estonia was a re-edit of the final of the European Championships in Montreux (Switzerland) that took place at the beginning of the month, when the tricolour conquered gold following a 45-35 win.
Qualified directly to the semifinals, Romania defeated Russia by 31-24. Before the final duel, the tricolours had a two-point advantage, 23-21, but Ana-Maria Branza, gold medalist in Baku in the individual competition, clearly dominated Sivkova (8-3), despite a leg injury, bringing the Romanian team's victory.
Romanian men's sabre team, silver in the finals


The Romanian men's sabre team has gained the silver medal in the fencing event of the European Games in Baku (Azerbaijan), on Friday, after being defeated by Italy by one point, 45-44.
Massimiliano Murolo won the match by a surprising ballestra in the final exchange against Tiberiu Dolniceanu.
Italy led Romania (Tiberiu Dolniceanu, Iulian Teodosiu, Alin Badea) for the most part of the final, but the tricolours were close to the gold medals. Murolo took Italy on the advantage after the first duel against Teodosiu (5-2). Dolniceanu reduced the difference in the duel against Alberto Pellegrini (10-8) after leveling the score at one point (8-8).
Luigi Miracco consolidated the advantage of the Italians at the expense of Badea (15-12), but Teodosiu managed a remarkable performance against Pellegrini (20-19). Murolo bested Badea (25-22), but Dolniceanu turned the score to Romania's advantage after defeating Miracco (29-30). The situation remained in Romania's advantage after the clash between Pellegrini and Badea (34-35), but Italy managed to once again take the lead following the Miracco — Teodosiu face-off (40-38).
The decisive match, between Dolniceanu and Murolo was dominated by the Romanian fencer in its first part, Dolniceanu managing four consecutive points, bringing the score to 40-42, but the Italian managed to score 3 points in a row (43-42) and while Dolniceanu leveled the score twice, Murolo won thanks to his ballestra.
In the semifinal Romania had defeated, just as dramatically, Germany, by 45-44, while in the quarterfinals the Romanian fencers outright defeated Hungary by 45-34.
In the match for the bronze medal, Germany disposed of Russia by 45-44.
The medal tally of the Romanian delegation in Baku is of 12 medals: 3 gold, 5 silver, and 4 bronze medals. AGERPRES
Google's Android engineering team in London is the largest outside of the US, and has led much of the development of the latest version of Android, known as Lollipop. Sophie Curtis meets some of the brains behind the world's biggest mobile operating system
Inside Google's London office
Deep inside an innocuous looking building near Victoria Station, buried within a maze of curious indoor workspaces, a team of engineers is beavering away on the next version of Google's Android operating system – codenamed 'Android M'.
Like Google's other offices, walking into Belgrave House is a bit like walking into Candy Land. Everything is brightly coloured and softly furnished – like a homely apartment but with a strong injection of hipster cool.
As I was led through the winding corridors, I passed indoor trees, a dinghy lying on a patch of Astro Turf, chandaliers, Chesterfield armchairs, a portrait of Churchill, a music room stocked with guitars, and a double decker bus (naturally).
The office houses 700 Google engineers, around 200 of which work on Android – the largest engineering group outside of the US working on the product. Android is now the world's biggest mobile operating system, with more than 1 billion active users and more than 1.5 million new devices running the platform each day.
At the helm of the Android team is Andrei Popescu, whose first contribition to the operating system was to Android 1.6 Donut, released in September 2009. Since then his team has grown massively, and led much of the development of Android Lollipop, the newest version of the operating system.
"We have made a big investment in Android in London, and I don't think that many people know that a significant portion of Android is built here," said Mr Popescu.
"The Google search experience on Android is built here, as well as voice search, Chrome for Android and Google Play. Other than that we work on the rest of the system, focusing on creating a better experience, improving the operating system, and creating a better product in general."
These elements of Android development were assigned to the team in London, because of their particular expertise in building a search experience on other phones. Some members worked on developing Google search for the original Windows Mobile operating system, which was briefly the most popular software on smartphones before Android and iOS stole its thunder.
Mr Popescu's team was also responsible for adapting applications to Material Design – one of the defining features of Android Lollipop – as well as optimising the performance of Lollipop on 64-bit devices like the Nexus 9.
Andrei Popescu is Engineering Director at Google
"You will see a lot of animations that happen when a user takes an action, like for instance when they press a button or touch something, things will ripple around the touch, and that's one key aspect of Material Design – it's this responsiveness to the user action, you see immediately that you've done something and you have a nice transition to the new state," he said.
One part of the Android team, led by software engineering manager Milena Nikolic, is focused purely on Google's app store, Google Play. In particular, her team takes care of the developer experience for Google Play, helping developers to distribute and manage their apps, engage with users and earn money.
Two key features that her team has worked on include the Alpha/Beta programme, which allows developers to distribute their apps to a small audience initially to iron out any issues before making it available to the wider public, and the Reply to Review feature, which allows developers to engage in an open dialogue with users of their apps.
"We have one of the biggest and fastest-growing app ecosystems. We distribute to 190 countries, and we have a very large number of users in some very fast-growing markets like BRIM (Brazil, Russia, Indonesia, Malaysia), so I always think that's one of the main reasons developers come to Android, to reach out and tap into this large audience," said Ms Nikolic.
Milena Nikolic is a key part of the Android team
"In addition to that, we're trying to create some differentiators here in London, so Alphas/Beta and Reply to Review are featres that developers cherish very much, because they allow them to get in touch with their users."
With the introduction of Android Wear (for wearable technology) and Android TV, as part of the Lollipop release, Ms Nikolic and her team have also had to make some significant changes to the way that Google Play apps are managed and curated.
"I believe that we can create a perfect experience at the individual user level, so that if you do have a wearable device we can give you this content ranked much higher, saying look you can make your Android watch even better with these additional apps, and then for someone else who doesn't have that we can present content differently," she said.
While much of the work carried out by engineers in London is led from Google's headquarters in Mountain View, California, the company has a strong culture of grassroots innovation, so they are also able to work on their own projects. Mr Popescu gave the example of Auto Awesome Movies, which is a feature of the Google Photos app and was conceived and built in London.
Fancy a jam session on your lunch break? No problem…
"With videos you may shoot a certain amount of footage, and it's not all very good, but editing video on a mobile phone where you have limited input devices and the screen is small is actually hard," he said.
"So the idea was to let the phone do the heavy lifting of figuring out what are the good parts and what are the bad parts, adding perhaps a theme to it, adding a soundtrack that matches the beat of the video, stuff like that. That's an idea that we came up with, and we built the product and shipped it."
While he admits there are some features of Android Lollipop that not all users like – such as the removal of 'silent mode' from the main task bar – Popescu said it is better to try innovative things and see what the reaction is and adapt, rather than continue doing the same thing with every release.
Or take a seat on a deck chair
"It's always a balance. If everything's different, users will naturally be confused, but at the same time you can't just ship the same software over and over," he said. "You have to hit the right balance between innovative features and usability. It's a fine line to tread."
As London gradually builds its reputation as a successful technology cluster, attracting talented developers from all over Europe, it is encouraging to see that Silicon Valley is sitting up and taking notice.
As well as its own staff, Google helps to support London's tech ecosystem with initiatives like the Google Campus start-up incubator, and while some Tech City entrepreneurs have expressed hostility towards American technology giants sucking up talented developers, Mr Popescu insists that Google has been welcomed into the community.
"I met a few start-up entrepreneurs, and they were very friendly and grateful for the support. I don't think we are threatening the ecosystem in any way, we're trying to be as helpful as we can, and we have an interest in London becoming a successful tech city," said Mr Popescu.
If nothing else, the growing team of Google engineers at Belgrave House is testament to the fact that London is not only home to a growing community of start-up entrepreneurs but some of the best engineers for the biggest global companies.
All aboard!
Source: the telegraph
Insights from the successful five-year-old startup which creates and measures interactive video ads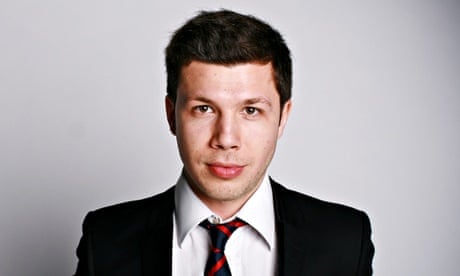 Company age: 4.5 years
Number of employees: 40
Elevator pitch: Create, deliver and measure interactive video ads across any device.
How, when and where did you start out?
Brainient started out from a failure. About a year before I started Brainient, I founded an online TV channel called BrainTV – "TV for smart people". After a year of building a production studio, hiring presenters, editors and producing a number of web shows, I realised we were never going to build a big enough audience to be able to actually make money. BrainTV failed, but there was a feature that was very popular – the ability to interact with the shows using various interactive features. So I decided to build a company all about interactive videos. It worked out quite well.
What digital technologies and innovations have helped you to establish and grow your company?
One of our unfair competitive advantages has been that our engineering team is located in Romania, which has enabled us to hire brilliant engineers much more cost effectively than in London. We wouldn't have been able to do it if not for the wonderful collaboration tools out there – everything from Skype to Hangouts, Trello and so on. The world isn't flat, but the internet is and that's helped us a lot.
Are you a global company? And if so how have you been able to grow this side of your business?
We have customers that run campaigns in eight different markets, from Brazil to Singapore. We service all these clients from our two main offices in London and Bucharest, and have sales representatives or partners in many other locations.
Startups today can be both global and local from day one, thanks to things like the App Store (anyone in the world can buy your app from day one) or Skype In (create a physical phone number in Singapore that forwards to your UK mobile).
How and at what point did you begin to raise finance for the business?
We raised a seed round (£473,000) in 2009 and a Series A (£1.1m) in 2012. We raised the seed round when we knew we had product/market fit (had a product that the market wanted, for those uninitiated in startup slang) and raised the Series A when we were ready to scale our sales & marketing team.
Deciding when to raise capital for your business is a trick question that doesn't have a right or wrong answer. The best way to do it is to think in milestones, and always raise 30% more than what you think you need in order to reach the next milestone.
What one piece of advice would you give to a home business or startup wanting to gain a foothold in your space?
There's a wonderful speech Winston Churchill gave at a graduation speech in 1941, in the context of the second world war. He ended his speech with: "Never give in, never give in, never, never, in nothing, great or small, large or petty. Never give in to nothing except to convictions of honour and good faith. Never yield to force. Never yield to the apparently overwhelming might of the enemy."
So, I'd say to never give in.
Author: Michael Berliner
sources: theguardian